HollyWood Story Movie Trailer 01:18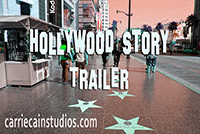 HollyWood Story Movie Trailer 01:18
HollyWood Story (G) general audience (Documentary)

CLICK HERE TO WATCH THE SHORT FILMS INCLUDED IN THE HOLLYWOOD STORY FULL MOVIE!

Synopsis
Like "New York Stories" by Woody Allen, Francis Ford Coppola, Martin Scorsese. This is the Journey of three directors realizing their dream in Hollywood. Starring the directors; Carrie Cain Sparks (of Rumble in the Bronx, X-Files), Randy Kent and Shadow Dragu-Mihai.
 
Hollywood Story Contains a collection of nine 24 hour films originally screened at "The Hollywood Film Look Festival" in Hollywood. All films are shot and edited on the same day! The films are shot as "Film Labs". Film Labs are:
- One take wonder films (movies shot entirely in one take) An amazing feat
- Commercial Format (includes info-mercials) Mostly farce/spoof/comedy
- and Documentary (reality meets creativity)
Watch these hot young directors in their first films ever! Follow them as they live the dream or nightmare...however you want to look at it.
 Original entertainment for the world stage!