Bashing Promo
Bashing "Every Family Fights!"  (Action/ Drama) (R) for violence & Strong Language
Starring Carrie Cain Sparks (Rumble in the Bronx, X-Files, The Man), Jason 'Wee Man' Acuna (Jack Ass, Fox Sports), Kim Estes (House, The FiXXers, NCIS) Directed by HSH Shadow Dragu Mihai
Based on the elusive underground Fight Clubs across the country, Bashing uncovers the perceived hidden lifestyle behind the Boxing industry. Where innocent hopefuls' big dreams can have deadly consequences.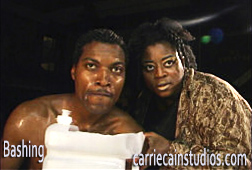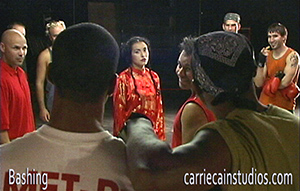 Gerome Besson is an ex boxing champion, and the Father of a son, Francis, who is a young up and coming fighter. Egypt, hi daughter is her brothers manager. Egos clash as each try to get their agenda known.  Francis constantly battles his Father for acceptance of his Gay lifestyle. His sister Egypt overcompensates for not being the good son by being an even better daughter. Gerome thinks the ring is no place for a woman and ignores her efforts and successes.
 If Egypt can get Francis a pro fight and find him a girlfriend, she will win her Fathers respect. If Francis wins a pro fight, he will gain his Fathers pride and finally be accepted as a man. One thing everyone can agree on is that "Every Family Fights!" 
WATCH ALL CCS PPV MOVIES HERE
Watch Bashing Now. You will be directed to PayPal secure site, then after processing, your movie will play! Your movie will be available for 5 days. So that everyone can enjoy this special event movie you may now pay what you Can. Select your price and Enjoy!