The Spy Who Boned Us!
The Spy Who Boned Us (TSWBU) "The first comedy about terrorism"
Available Now on Amazon Prime Video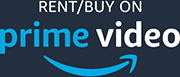 Also Available on Amazon Prime Video United Kingdom
DOWNLOAD YOUR MOVIE WITH PAYPAL HERE
WATCH THE OFFICIAL SPY TRAILER
The Spy Who Boned Us
by ccstudios
          Starring & Directed by Carrie Cain Sparks (Rumble in the Bronx, X-Files, The Man)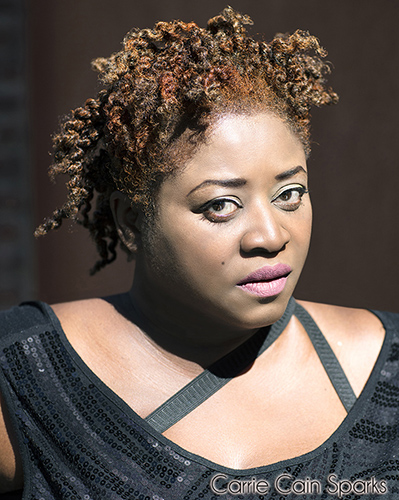 The Spy Who Boned Us is a wacky, wild ride of action comedy! This is Ms. Cain Spark's Directorial Debut!
Three lovely ladies Wellen Dowd, Curvay Bootay, & Mi Lei Yu, are brought together with one thing in common, they have all been jilted by the same English Spy, Finely Boned. Once united the girls realize they all have the same dream, to become an international Spy! NOW STREAMING AT AMAZON PRIME VIDEO!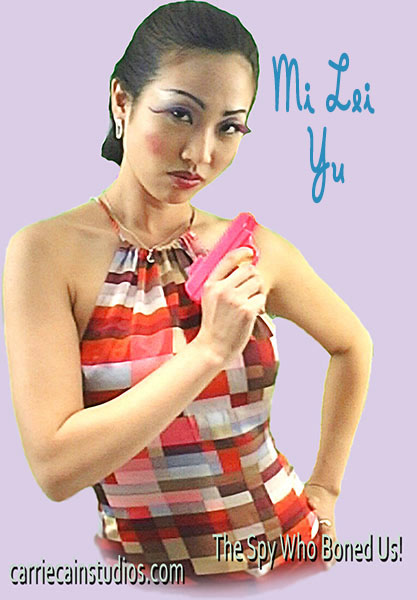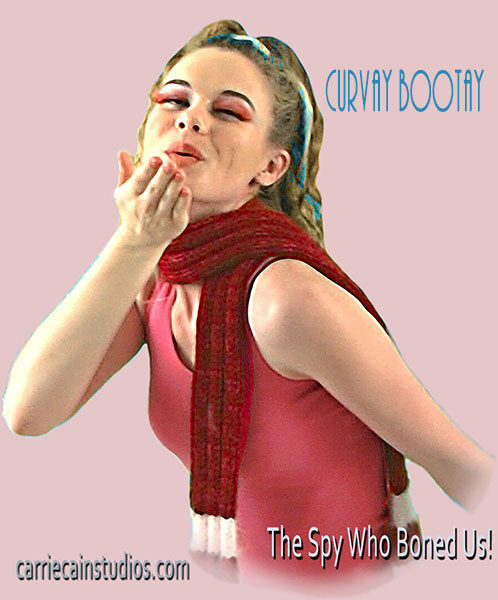 Mi Lei Yu is a former Indentured servant in a house of Horrors whom escaped her hell after Finely Boned promised to pay her exit fee but then forgot. Curvay Bootay is a French girl who pledged her body to Finely, but he compromised her with an Indian Ambassador so he wouldn't blow his Spy cover. He later accuses her of cheating, dumping her.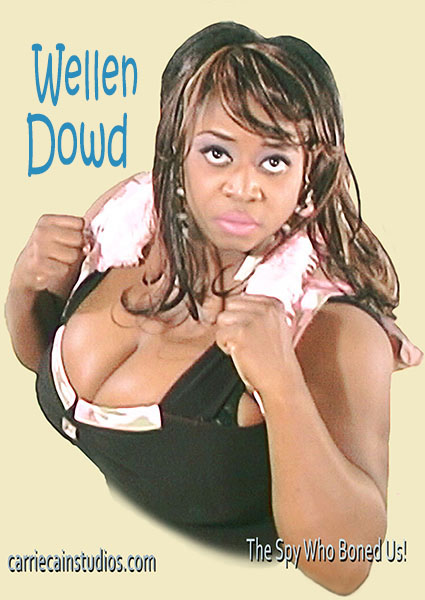 Wellen Dowd is the daughter of an English Chocolatier.
She fell hard for Finely, however their love affair is always trumped by his work.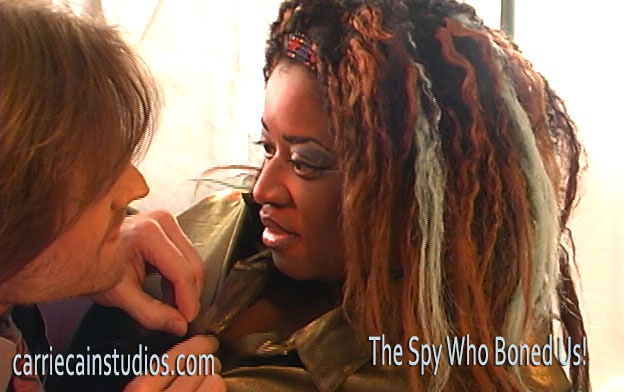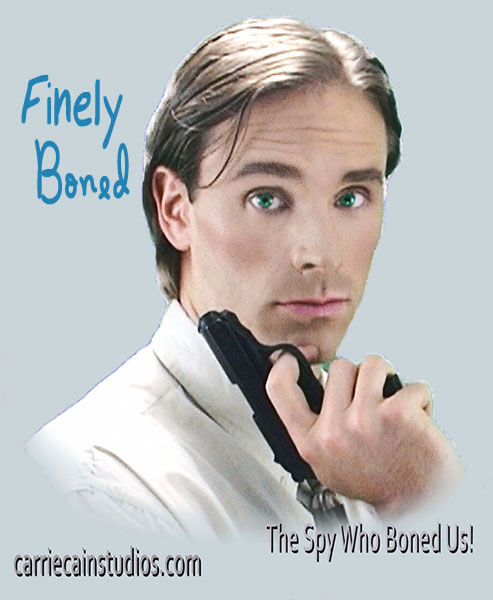 Finely Boned. The Selfish Spy, leads the girls on to help him win cases. Later, he sees the girl by chance at a 'change your life' vegetarian restaurant called Veggie Heads. They have come to cleanse their hearts and bodies. He feels responsible for this.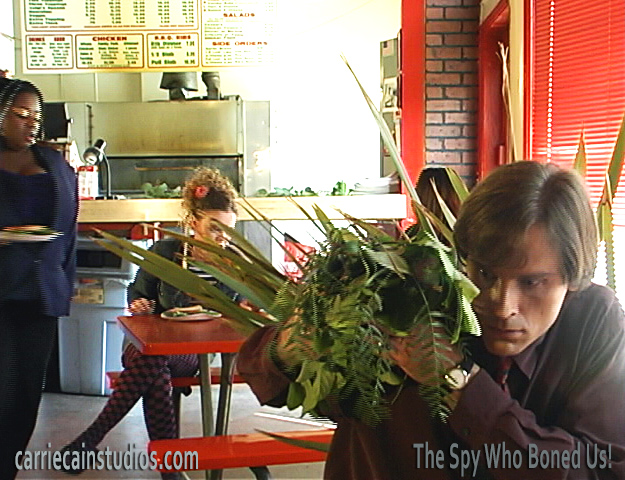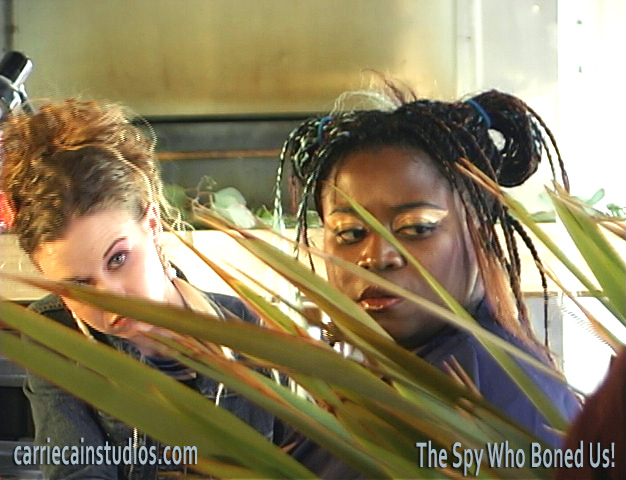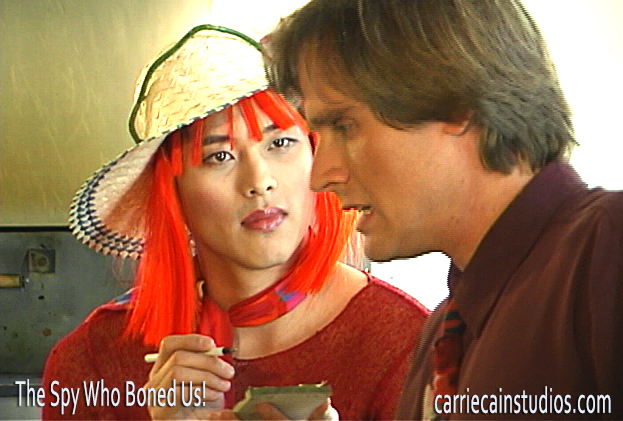 Finely is afraid he'll be spotted. How can all his girls be together at the same place?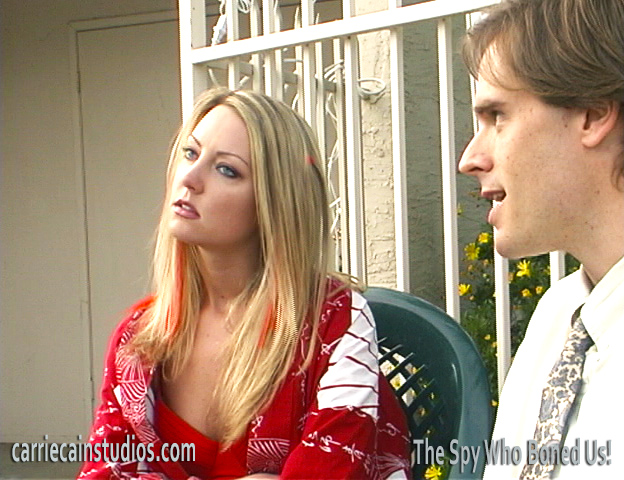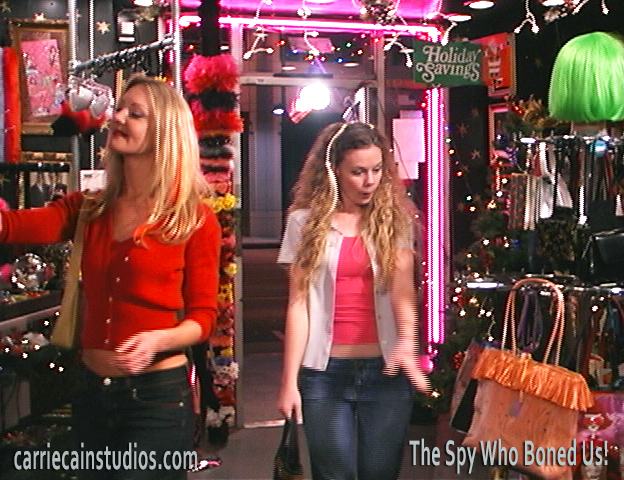 Finely turns Demonica against the girls. Time for Bikini Shopping! ...and Jealousy!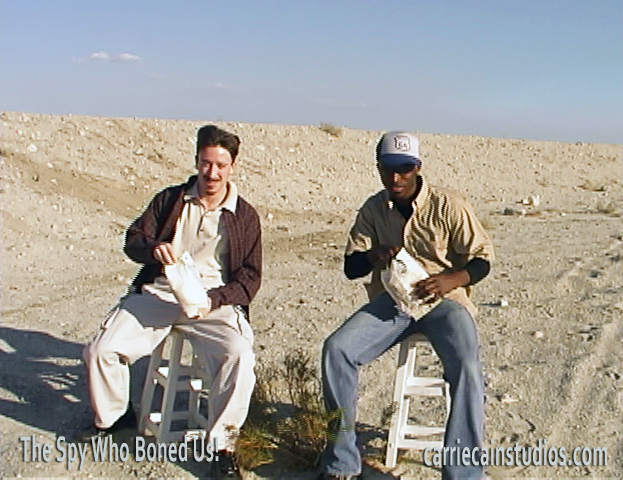 Confrontation in the Dessert.                      Popcorn Guys - always ready for a good fight!
                                                                                        You never know...someone could lose a shirt!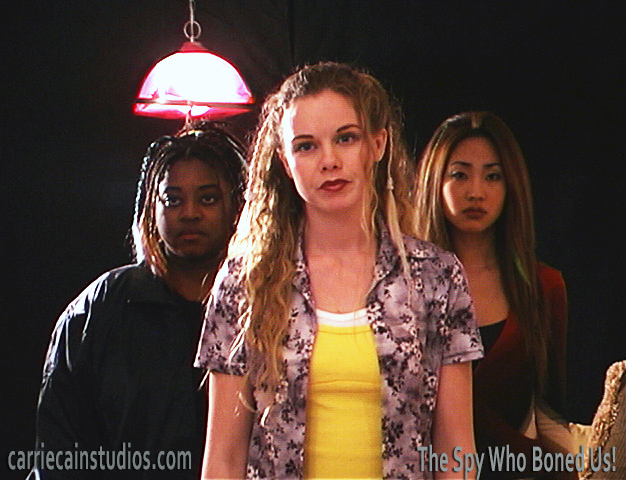 The Spy team sets out to catch a terrorist from a social media tip, but fail miserably. They know they are being sabotaged!  But why and by whom? Could their ex-lover Finely, be showing up at their spy events mysteriously to sabotage their efforts?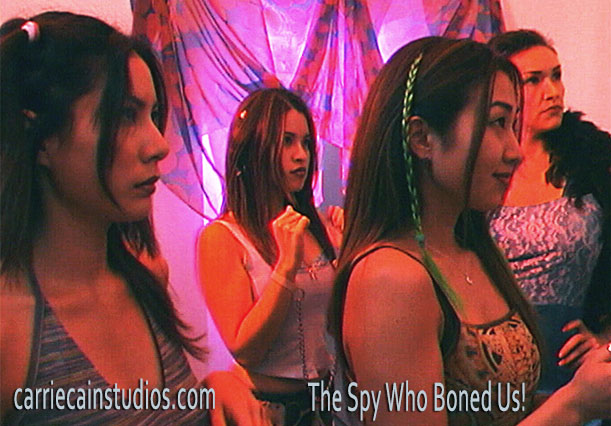 The Ladies realize their weakness and hire an experienced Boss to take them to the next level. In comes Dime Bag, a weed smoking, sixties style Hottie who should be well past her prime but is still going strong. Dime used to work for Finely 40 years earlier and is still in love.
CLICK HERE TO  WATCH
AMAZON PRIME VIDEO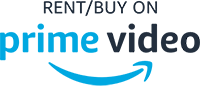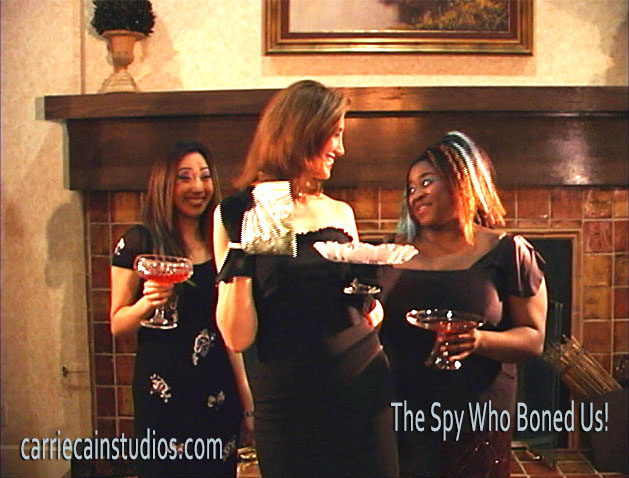 Knowing this is her chance to get her ex back, she works hard to market her girls with an impressive corporate video which gets the attention of the President! After receiving an impossible invitation to the White House, they get a chance to prove their worth.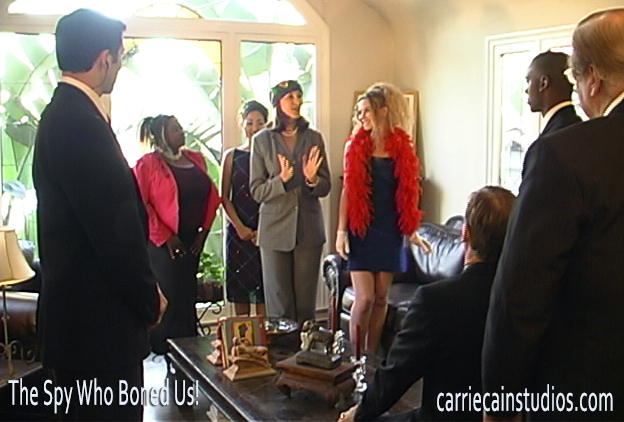 Dime Fascinates at the White House Meeting. So much that Dick took a heart attack! During Vice president Dick's heart attack, President Bush assign the Ladies to Spy in Afghanistan. Cheney's second heart attack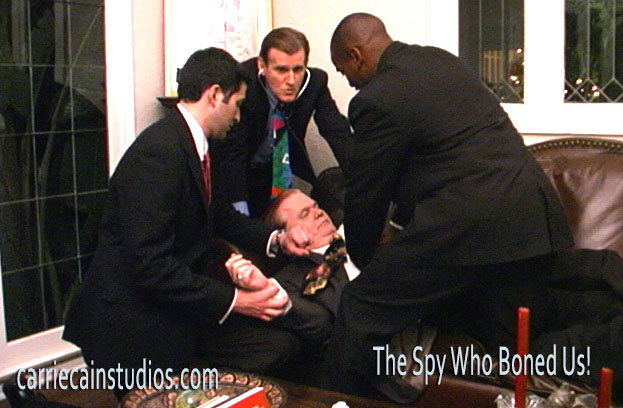 -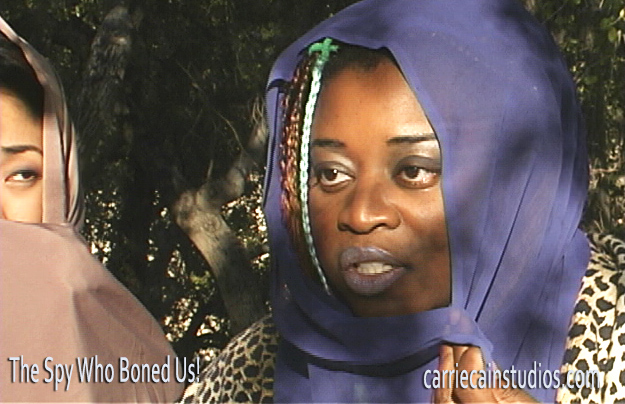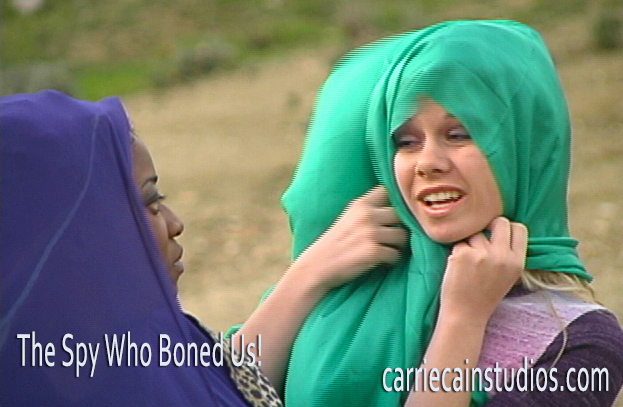 The ladies as Undercover Hookers for the 'All Kind of Men' in Afghanistan.  Meanwhile, Dime Bag takes care of Finely at home in Hollywood.
Their spy agency, "Quadro Pink", will be the first with spies to go on the inside of this radical religious group. They will have access to leaders, minions & classified documents. The ladies take on this job with all their feminine power! Intending to reveal that the Super Terrorist, Ben Flatten is still alive and will reveal his evil plan to take over Hollywood and the world!
Ben Flatten & his underling Shinky, hash out their not so secret plan.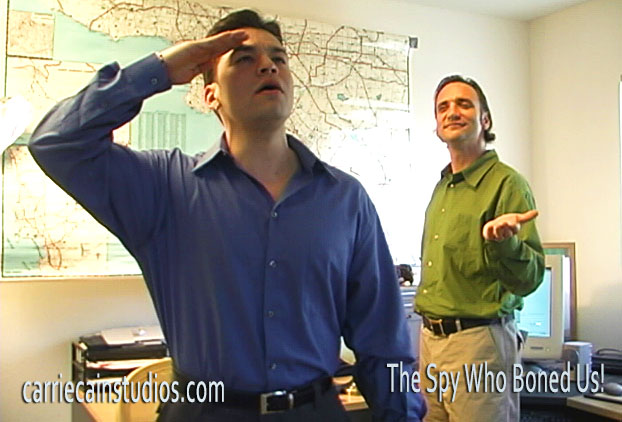 Set in Afghanistan & Hollywood, The Spy Who Boned Us! is a smart and witty, no jokes barred trip through the absurd. Although comedic in nature, secrets and theory's you wouldn't have thought possible are revealed!


 
Download The Spy Who Boned Us movie!
WATCH FREE MOVIES HERE
SEE ALL CCS MOVIES HERE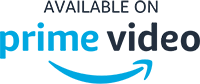 TM  CCS