Life Death & Mini Golf
Life Death & Mini Golf (G) (General) (Comedy/Drama) Starring Oscar Nominee Kristen Wiig (Bridesmaids, Saturday Night Live, The Martian, Ghostbusters!)  A group of friends re-unite to celebrate Life, Death and Mini Golf! Directed by Randy Kent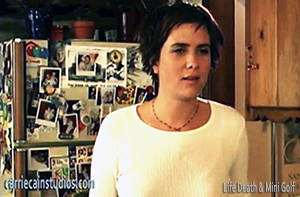 (LDMG) Synopsis

Like "The Big Chill" for the millennial generation. Life Death & Mini Golf begins after the tragic suicide of a punk rocker musician who couldn't find meaning in his own existence and flooded his body with illegal drugs. One night after a binge, the battle with the demons was lost and he shot himself. The music world is rocked when the news hit the radio.
Friends gather for the funeral and congregate in a house while the past comes flooding back to them. Old romances and buried flames re-ignite. Rivalries' and tensions build as the blame game threatens this group of friends. Life is honored with a farewell game of Mini Golf. Every hole has deep meaning.
Watch Life Death & Mini Golf Now you will be directed to PayPal secure site and then your movie will play. Your movie will be available for 5 days. So that everyone can enjoy this special movie you may now pay what you can. Select your price and Enjoy!